Africa Safaris - Botswana

Cultural Tours & Wildlife Safaris

Afrika Calls - spelled in the African way - is a truly African safari venture:

African owned and African based - Botswana owned and based.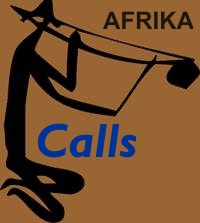 This page was last updated: January 19, 2010
Afika Calls offers the following services:

Afrika Calls is a local safari company, operating from Maun - the gateway to the famous Okavango Delta, Moremi Game Reserve, Chobe National Park and other wildlife destinations of  Botswana' s wilderness areas.

Afrika Calls wants to share with you not only the fantastic wildlife of Botswana but also the culture of its people, among them the legendary Bushmen.

All rights reserved. Copyrights: Pius Tebele.