Afrika Calls

P.O. Box 726, Maun

Botswana, Africa

Tel/Fax:

(267) 68-00-710
Mobile:

(267) 72-109-959, (267) 71-234-557
Sat Phone:  00-8816-315-192-96

E-mail:

afrikacalls@botsnet.bw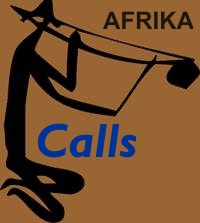 Africa Safaris - Botswana - Wildlife Safaris & Cultural Tours




This page was last updated: October 3, 2016


Use this e-mail button if you experience problems with the standard one above.

The standard button should work with Win-Outlook.

Netscape users might have to use the one on the left.

All rights reserved. Copyrights 2015